About Me
I recently completed my graduate studies at the College of Journalism and Mass Communication at the University of Nebraska-Lincoln, earning my master of arts in May 2012.
The breadth of my experience ranges between daily sports coverage to investigative reporting for national publication. In the last three years, I have significant experience with:
My professional experience and graduate training has given me a broad range of skills that span nearly the entire spectrum of news media.
Before completing my professional project (at right) I was accepted into the prestigious News21 fellowship program where I was selected to join just 10 others on a reporting project of national scope and interest. Funded by Carnegie-Knight, we extensively covered the national transportation system and several articles were picked up by national outlets such as The Washington Post and MSNBC.com.
More recently, as a member of the Nebraska News Service, I led team coverage of the Nebraska Legislature's special session which debated TransCanada's highly controversial Keystone XL pipeline. My work for the University-based News Service was widely published by a client base that counts more than 80 media outlets with more than 250,000 readers.

I also served as the bureau chief for the ABC on Campus Nebraska bureau, a campus-based program available at just six universities that regularly provide content for the various ABC News platforms.
Prior to my pursuit of a master's degree, I spent six years as the sports editor of two small Iowa dailies, where I won five writing and coverage awards. While in Iowa, I also contributed to The Omaha World-Herald and the Iowa Associated Press.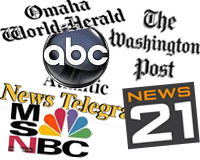 Professional Project
For my final graduate project I created a database-driven interactive map for the NEmosaic.org website, which is primarily aimed at the surprisingly large refugee population in Lincoln, Neb.
In the course of working for Mosaic as a graduate assistant, it became apparent that there is no shortage of support, resources and services for the refugee population. But those resources are spread over a sometimes disparate range of websites, and can be difficult to find.
Refugees, provisional citizens here by invitation of the U.S. government, often arrive with only what they can carry and typically have little or no understanding of English and computers.
So finding all those resources can be next to impossible to those unfamiliar with our language, our culture, or our bureacracies.
View my portfolio for samples of my work, or go to the reference page to see what others have to say about me.
The testing version of my professtional project is here, and the published version is on the NEmosaic.org website.
My project takes steps to bridge that gap, collating all the important information of most interest and need not just to refugees, but all immigrant and low-income segments of Lincoln. This data is brought together interactively, adding context to the information while also filtering out the white noise that often exists on the internet.
One unexpected result of the application arose during early testing. The application could also be used as a training tool for basic internet skills, which turned an apparent weakness of the application into a strength.
I have created a 5-minute demonstration video above, or you can see the application for yourself by visiting the same beta version reviewed by my graduate committee or the final version that recently published on the Mosaic website.