Lincoln streets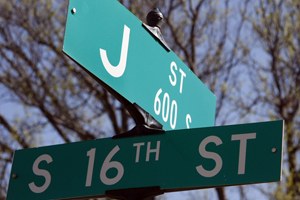 Not all cities are the same, but roads in Lincoln are primarily laid out in a grid pattern. Knowing the basics of the system can help in finding your way around town...and finding your way home if you get lost.
Numerical streets generally run north-south, while named streets generally run east-west. So, think of the city as a pie divided into four parts: east, west, north and south.
Any city map can show that the city is divided into north and south by "O" Street. So, an address on "N. 44th" is north of O and an address on "S. 44th" is south of O. The number before the street name can tell you how far north or south that location is. So, an address such as "2000 N. 44th" is about 1.5 miles north of "O" on 44th street. And address such as "4000 S. 44th" is about three miles south of "O" on 44th.
"O" street runs the entire length of the city, so any new driver in Lincoln should first learn how to get back and forth from O street to their home. The friendly people in Lincoln may not be able to give you directions to any destination, but they'll likely know how to get to O Street. And if you know that, there's nowhere in Lincoln you can't explore.
The city is also divided into east and west by Salt Creek, which is near downtown. Numbered streets west of Salt Creek are either labeled NW (north of O) or SW (south of O), such as NW 25th (north of O and west of Salt Creek) or SW 33rd (south of O and west of Salt Creek).
But there are many roads that do not follow these conventions. Some slice through the city at odd angles, others wind around in several directions, and some might even change names. It's easy to get turned around, confused and lost in some parts of the city.
Asking for directions, bringing a map and planning the route ahead of time are some ways to avoid this. More and more cell phones have GPS, driving directions and map applications that help with navigation. With tools like these, anyone can jump in the car a feel free to explore the city.
Getting lost is a good way to find new and interesting places, and if you know how get home from "O", then you'll always find your way home.
There are two options when buying a car: New or used, and both require some work.
Natural-born Americans can feel overwhelmed and intimidated by the process. It is understandably stressful to make such a large purchase, especially when so much of the process can be confusing. So, before stepping onto a car sales lot, it's best...READ MORE
Getting a driver's license and registering a car is a necessary process that most people dislike. It ensures a minimum competence level of all drivers and collects the taxes and fees that help maintain the nearly 10,000 miles of roads that criss-cross Nebraska.
Even people born and raised in the United State have...READ MORE
Automobiles
There are few taxi cabs in the city, and what there is for taxi service is generally considered unreliable and overpriced. A two-mile ride in a Lincoln taxis will cost about $13, but a two-mile ride in Omaha is about $8. And according to taxifarefinder.com, a cab ride in Lincoln is more expensive than in major cities like New York, Philadelphia, Chicago, Miami, and Washington D.C., to name a few.
Lincoln's best option for public transportation is StarTran, the city bus system. Regular rates are affordable, and there are also low-income options. StarTran also provides services for the disabled. Check this video for a detailed look at how to take advantage of the StarTran system.
Parking

Finding a parking spot is not a large problem in Lincoln. Even in downtown, parking is usually available, although for a price. So, if you're heading to a downtown location, make sure you have a few dollars in spare change.
Metered street parking downtown costs about $.25 for half-an-hour, and is usually limited to two hours ($1) or less.
Parking garages are also available downtown. Some garages might charge as much as $1 per hour, or $4-6 for all day.
Leaving Lincoln
Longer journeys will likely begin at the Lincoln Amtrak train station, Greyhound Bus Depot or Lincoln airport.
Go here for more on leaving Lincoln.